It is a sad and little-known fact that I am incapable of remembering the order of the alphabet.
Yes, you may laugh now.
I'm not completely hopeless. I can remember up to about D. If it's a good day, I can even sometimes get all the way to H... but after that, I'm lost and have to sing the alphabet under my breath. (This makes finding books in the library excessively difficult. Sometimes I get lost within the shelves, thinking, "But I'm SURE J came after L! Where'd it go?" until a librarian takes pity on me. And yes, they laugh too.)
Why am I mentioning this? No reason in particular. Mainly because I wanted to linkup to Jenny Matlock's Alpha-Thursday...and I had thought of this great N post... before looking at her blog, and realising we were only at M. (Sigh.) And to add insult to injury, I can't even remember what the N post was about, so I can't even post it next week. (Double sigh.)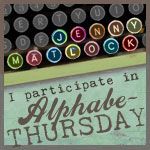 Anyway, I will now get on with the photos for PDA! (The title of this post was supposed to be narcissim, as in I am too busy to post pictures and show all of you my wonderful life because I am lazy, and yes that's not really what narcissim means but it's my blog and I can be confusing and change the meanings of words if I choose!)
12- Maudlin clouds
This picture is actually the reason I've been procrastinating on this post. It's been super sunny and hot recently... the sky is completely blue... a bit difficult to take some pretty cloud pictures. Finally, I decided to, once again, simply use a picture I'd taken in Spain.
Even in this picture, the focus isn't really on the clouds... but I thought they looked gorgeous and fluffy, the kind of clouds you might like to eat.
13- A mysterious sign
I went to Ribfest the other day... Yes, I'll just stop there and admit the inherent weirdness of that statement. There are 2 questions that have to be asked here: why would I, a militant vegetarian, go to Ribfest? And why would my town have a Ribfest?... because we're Hicksville, guys. EVERYONE shows up at Ribfest. It's literally the event of the year. (As my friend repeatedly told me: meat brings people together. Oh-kay.)
Anyway, the point of that paragraph was (as usual, close to non-existent) that, while browsing the booths, we saw this sign and it made me laugh:
Really, taking a ride in a police car might actually be one of this town's highlights, just saying.
14- Mischievous best friends
I think this picture basically speaks for itself. Aren't we cool?
This one's a little more demure.. but equally as gorgeous.
(Yes, these are two different people, not just one who underwent extensive plastic surgery!) Happy Thursday! I hope your week is going well. What do you think of Ribfest? How is the weather near you?