It is a truth universally acknowledged that dancing is fun. (Okay, maybe it's not universal... but it should be! Just think of how much happier the world would be!) Another universally acknowledged truth is (or again, should be) that dressing up makes everything better. It logically follows that, when you dress up to go out dancing, it's one of the most enjoyable activities possible to girlkind... and in this case, logic did not disappoint. What was I doing, you may ask?
Why, Jane Austen dancing, of course!
Have you ever watched Pride and Prejudice? If not (and shame on you, go watch it now!) here's a quick clip to show you what I mean.
Yes, I can actually dance that. Be impressed -wink- The other night, there was actually a ball near us! Well, more precisely a reenactment- and the only reason that part is important is because reenactment= volunteers= cute boys... in Regency outfits. (Score!)
Let's just say... it was a lot of fun.
However, our merriment caused some of the other dancers to become alarmed- and not only because we were so confused that we kept messing them up... tripping over poles and each others' feet... dancing the wrong dance entirely... etc! By virtue of being the youngest regular dancer, I've become something of a pet to the others. (Case in point: both my dress and the hat I sometimes wear- which can be seen here- were handmade gifts from two of the other lovely members.) The shockingly forward behavior (in Jane Austen terms) we were exhibiting (read: shameless flirtation) led one of the other dancers to whisper in my ear: "Remember, Wickham was a redcoat!"
Now, at this point, you will either start laughing (or at the very least give me a smile, come on!) or stare at the screen thinking... what? To the second reaction, I have only to say again: read Pride and Prejudice! Or watch the movie! (You know you want to stare at a young Colin Firth.)
Really, though, all you need to know is that Wickham was a Bad Man- not someone you'd trust farther than you could curtsey. (Does that even make sense? I don't believe so, but oh well.) Never fear, dearest readers. I was in no danger of losing my heart. (Only my shoes, since I stepped on my own toes so many times.)
Moral of the story: dancing is fun and Pride and Prejudice is wonderful, kthanksbye.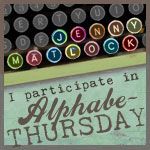 And if this post doesn't count for my PDA prompt of 'something weird that I own'... I don't know what does. (We're in the home stretch now! The full list can be found
here!
) What's your secret oddity? Are you a Jane Austen obsessionist too?